Lion King Reflection
September 18-21, were the days of The Lion King Jr production. The Lion King is a Disney production loosely based on
Hamlet, Shakespeare. It was presented in the Seatoun School hall by hundreds of students that were separated into two
casts, Ya Asha and Ya Zuberi. The production was about a young lion finding his true self, not blaming himself for tragedies such as his father's death and finding out who his uncle truly was.
Mufasa was one of our favourite people to watch. he was played by Charlie Pothan and Makhai Aukuso-Lolo who played
the role of Simbas father. We loved ail of his scenes especially when he stood up to Scar and the hyenas really tall and acted real tough, that was a funny moment.
We enjoyed watching the lionesses too. We liked how they used their body's to make the actions clear and sharp. This was demonstrated in the lioness hunt, personally one of our favourite scenes. This scene is before the elephant graveyard. It consist of a dance after which the lionesses attack the gazelles.
We also quite liked how Scar and Older Simba played their roles. They were played by James and Lachie plus Ivy and Max.
They used great tones that were ever changing throughout the performance and changed their wording ever so slightly to
show more meaning and feeling to the piay. Some examples are when Mufasa tells Simba how he has forgotten him and
Simba makes it feel quite sad, and when James tells Simba about the Elephant graveyard.
Next are the technical elements of the show… The lighting was probably one of our favourite parts [n the whole show. The lights flickered and changed colour to make their own captivating little show. | loved how intricate and vibrant the costumes were. They managed to be both simple and stunning. | wonder how Lyndal managed tt all. Last but not least, we will talk about the stage. The stage was so detailed, it captured the audience and kept it there. it had many small artworks scattered on it, making one giant masterpiece.
Those where the best thing about the Lion king for us, it was a great production. The stage, lighting and sound were so great the school put a lot of thinking and money into it, but well worth it. | hope the next production can be as good without the year 7 and 8s there.
Written by Sasha Anisimova and Ned Bacon
Performance dates
Term 3, Week 9
Cast – 'Ya Asha'
Monday 18th Sept:
Evening performance 6:30pm
Tuesday 19th Sept:
Matinee 1pm Evening performance 6:30pm
Cast – 'Ya Zuberi'
Wednesday 20th Sept: 
Evening performance 6:30pm
Thursday 21st Sept:
Matinee 1pm
Evening performance 6:30pm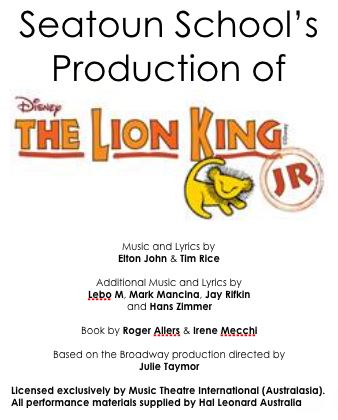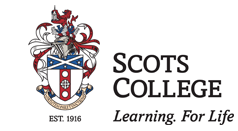 Thank you also to Scots College for all of their assistance.